Don't forget to put Ballroom Step by Step in your wedding planner! Most wedding guides suggest you start dancing lessons 3-6 months before your wedding day. Unfortunately, most people wait until the last minute before thinking about booking their lessons.
Remember, ballroom dancing is another activity which you can do together. Don't miss out on the fun (and the excuse to be in each other's arms)! You may even find this is an activity you would like to continue long after you are married!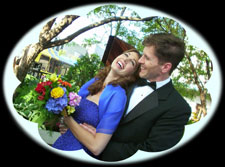 As your wedding dance consultant, Ballroom Step By Step can give you tips on how to enter the room, present the bride, and exit the floor. We will make sure the band plays your music as you intend so your choreography is not wasted. You will be poised and confident as you are presented to the world for the first time as husband and wife!
Of course, if you do not have much time left before your wedding day, don't despair. Call Ballroom Step By Step to see how we can help you.
Ballroom dance lessons are an excellent engagement gift. Also, add Ballroom Step By Step to your Bridal Registry so that you may continue to dance after you are married!
See some of our wedding couples on our Testimonials Page!
Shop
Around

You are shopping around for wedding dance lessons. It is hard to know what to ask, especially if you have never had any dance instruction. Therefore, we would like to suggest the following questions:

---

Preparation

We are getting married, how long before the wedding should my fiancée and I prepare for our first dance?

The sooner the better, but as a rule-of-thumb try to allow enough time for 8 lessons. Most wedding planners suggest you start your lessons 3-6 months in advance, giving you plenty of time to practice. Please call so that we can discuss the details and tailor a plan specifically for you.

Remember, dancing is a skill and a pleasure which should not be rushed. The longer you wait and the closer you get to your wedding day, the harder it gets to fit things into your schedule. You may be able to fit other events in at the last minute, but dance lessons take more time. If you are prepared, dancing should take away some of the last minute stress! And the dancing will give you a sense of preparedness which will help the day run more smoothly.

---

Wedding
Song

My fiancée and I have chosen the perfect song for our wedding, will we get to learn and practice while listening to that song?

A franchise situation requires you to share the music with other couples learning to dance, often listening to music which is not related to your song. When you are already under the usual "Wedding Pressures", the last thing you need are additional distractions.

If you are planning a wedding and want to learn to dance to your wedding song, you will be able to listen to your song the entire lesson, not share music with others.


---

Song
Evaluation

Will you listen to our song, and tell us what dance it is?

I spend the first part of the first lesson evaluating the couple's wedding song. If it is not danceable, we try and pick another one from my selection of recommended wedding songs. If nothing else, I demonstrate various dances, and we pick the dance. I require a copy of the wedding song so the choreography can be correct, and I can work it out before the next lesson. How can an instructor choreograph a routine for the wedding couple when he/she does not have a copy of the song?


---

Dance
Instruction

What type of instruction will you give a wedding couple which is different from others?

Most studios give a "wedding special", defined as five lessons where the studio will guarantee five steps will be learned. While the students are having their "private" lesson under their "wedding special", they are sharing their music with others on the floor, and have to wait until their "private" instructor has access to the music. Therefore, if the couple is doing a wedding dance which is a foxtrot, they may only hear their particular foxtrot (or any foxtrot, for that matter) once or twice during their lesson. You cannot learn as fast when you are not listening to the correct music.

My lessons are truly private. The students learn foxtrot to foxtrot music, not foxtrot to tango music. Listening to the correct music allows my students to learn enough steps to go around a floor (usually five steps) on the first lesson, not five steps in five lessons.


---

Dance
Plan

I don't know when the first dance should be, when it should be announced, how to get on the floor,etc. And I have a band or DJ to coordinate with. Can you map out the whole event for me?

Of course I can!!! Unlike most studios, I walk through the entire event with you – we plan!!!


---

Choreography

I have been dreaming about my wedding day, and I know how I want my dance to look. Can I have a say in the choreography?

The couple has a say in the choreography. If they do not like a step or a step is not comfortable for them, we change it – simple as that. The whole goal is to make them as comfortable as possible on the dance floor.

---

Photographer
Videographer

I want my videographer and photographer to capture my dance perfectly. How will I insure that happens so my memories are perfect?

I provide instruction on where the photographers and videographers should be located in order get the best shots and lighting. If at all possible, I try and schedule 1-2 lessons at the reception site where the wedding will take place. Then the couple can become accustomed to the floor and the room, and any adjustments to choreography can be made before the wedding day. For one wedding, I met with the couple at the reception area (which had a stage) and worked with the lighting specialist, the videographer and the photographer so their wedding memories would be perfect (and they were).


---

Wedding
Dress

My dress is long, I am afraid I will step on it or can't dance. How will I make sure I won't trip?

If you include me early in the process, I can advise you on what type of skirt to have and the proper length. However, even if you have already bought the dress, I am sure we will be able to have you dance in it. If you can walk, you can dance!!! I would be happy to speak with your seamstress if need be.


---