---
---
Testimonial coming soon...
- Jill and Rahul Mehra , Warren, NJ
Click here for more photos.
---
Joe and I did great for our first dance!! All of the guests were WOW'ed by our performance and continued to comment on it throughout the evening. Thanks again for all your help and the great choreographing to a our very "unique" song. I still can't believe that after only 10 weeks we were fox trotting and swinging.
You will be happy to know that I saw our video for the first time last night and I kept my head up during all of the turns - and kept my fingers together :)
- Stacy and Joe Newsome , Bridgewater, NJ
- Click here for more photos.
---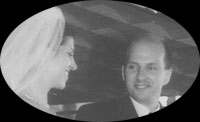 "We were both really nervous about our first dance. In fact, more nervous about the dance than the wedding itself! However, Debbie was great at putting us at ease and coaching us through the basic steps and movements. In the end, our dance went very well and all our friends and family were impressed."


- Christian and Angela Madjor , East Hanover, NJ
- Click here for more photos.
---
" As my son's wedding grew nearer, I finally faced what I had always feared. Neither he nor I knew how to dance and I knew that the spotlight would be on us. Calling Arthur Murray was a disaster. You needed to sign up for the full recommended course and spend so much money. With 3 weeks to go, I found Debbie's Ad in the yellow pages and with one call, she set everything in motion.
Deb came right to our house with music and my reluctant son and I gave it a try. With a great sense of humor and lightness in her step, she taught us the basics. She had us laughing and the 1-1/2 hours went too quickly.
We only had time for one more lesson before the wedding day and with Debbie's help, we learned more than the basics and how to smooth out nervous steps.
The morning of the wedding Jess and I pushed aside the kitchen table and went through one more practice run. Time spent learning - 3 hours. We could dance!!!
To this day people who attended our wedding still comment on the beauty of wedding waltz. Our short time with Debbie created a memory that I will never forget.
Thank you again "

- Elaine Barnick, Gillette, NJ
---
" Debbie has the patience of a saint. We came to her with a difficult song for our wedding First Dance but she figured out how we could make it work. She went on to teach us all the moves and tricks, taking the time to help us (and at least one of us needed the help!), listen to our gripes, and work around our schedules. After a few short lessons, Debbie got us comfortable and ready for the big day. "
- Deb & Scott, Parsippany, NJ
---
" Debbie Smith is a talented dance teacher who never forgets that the idea is to have fun. After 35 years of marriage we finally decided to take lessons so we could dance at our son's wedding. It was a real joy that Debbie helped make possible by teaching us the dances we wanted to learn and giving us the confidence that we could do them. She has infinite patience and a way of teaching that doesn't put you on the spot or make you feel like you have two left feet. And, it was so convenience. Debbie was available when we were."

- Vic and Marilyn, Bedminster, NJ
---
" We have learned more from our Ballroom Step by Step teacher than from all of our previous dance teachers combined (there were about 6). Although we were beginning to think that we were hopeless, we now feel extremely confident on the dance floor (after only a few lessons).
Thank you! "

- Elaine & Chris, Warren, NJ
---
" After we moved from California, I called Debbie to continue our dance lessons. Debbie was open to what we had learned and was able to refine some of our movements. She also added some fun steps to dances we knew. Debbie is very personable and professional; thereby, making learning enjoyable. We look foward to a lot more dancing! "

- Vince and Donna, Warren, NJ
---
" Debbie did a wonderful job of coordinating the dances for our daughter's wedding. My daughter wanted her first dance with her husband to be simple and elegant. I was just worried about keeping in time with the music and remembering my steps. Debbie secretly gave me extra lessons so I could surprise both my wife and my daughter on her special day. Thank you for your patience, Debbie ! "
- Gorden McClenathan, Watchung, NJ

---
" Deborah Smith of Ballroom Step by Step was a great help to us in preparing for our wedding day. Her instruction was precise and easy to follow, even for beginners, which we were. We highly recommend Ms. Smith for all your dance instructional needs. "
- Ken & Laura Kostovich, Basking Ridge, NJ
---
" Debbie choreographed and taught a Viennese Waltz to 30 kids between the ages of 8 and 14 for a Quinceañera, which is a girl's 15th birthday celebration in the Spanish Community. She exhibited a great deal of patience with the kids, and the performance went off without a hitch. Thank you, Debbie, for your time and patience over 4 months of practice sessions!!! "
- Steve Colson, Watchung, NJ
---
" It is nice to have a teacher who cares about the art of dancing and is not just interested in creating fluff to perpetuate the learning process. She is willing to work on whatever aspect of a dance you like and offers constructive criticism in a way that is nothing but, helpful.
She is versed in all the dances and loves to teach them all. She is very exciting to watch as a dancer and transmits that excitement into every lesson. From learning the basic steps to styling she has a way of making the process easy. Also she knows how to make people feel comfortable in class, especially important for left footed men too shy and embarrassed to ever get onto a dance floor. "
- Jeff and Debra Barcan, Maplewood, NJ
---
" Debbie is a wonderful dancer. She is preparing my fiancée and I for our upcoming wedding. It's great to have a dance instructor who is so patient, and teaches us any dance we choose. From the fox trot, waltz, or mambo, Debbie teaches us any dance we wish to learn. It is a very fun-filled hour of dancing and learning. "
- Eileen Washington, Iselin, NJ
---
" The first three steps we learned from Debbie Smith were that her methods were fun, easy and enjoyable. We would highly recommend her to anyone!!! "
- Diana and Timmy Shoemaker, Morris Plains, NJ
---
" Debbie was a wonderful, fun addition to my husbands "Roaring Twenties" birthday party. Her Charleston performance was splendid, and her class in Charleston was fun for the guests of all ages! "
- Lauren Hagerstrom, Madison, NJ
---
" We have enjoyed our lessons with Debbie immensely! She has that relaxed, but professional demeanor that marks a true expert. Planning a wedding can be stressful, but our hour-long lessons with Debbie have been a lot of fun! "
- Russ Watkins & Jen Pompilio, North Brunswick, NJ
---
" Deborah is a gift to anyone who wants to learn to dance more gracefully. Her explanations are clear, her movements precise yet fluid.
Learning the steps and methods of ballroom dancing can be a daunting challenge if, like me, you grew up with the belief that you lacked any musical sense. But taking certain body positions and moving one's feet in certain patterns is clearly just the beginning. The musical sense comes afterwards. The true enjoyment and accomplishment comes from movement in the proper rhythm.
For Deborah teaching others to dance is a life-fullfilling passion. It shows through."
- Jonathan Cloud, Basking Ridge, NJ
---
" Deborah taught my husband and I ballroom dancing in preparation for a cruise. Not only did we have a great time dancing on the boat (and looked great, by others' accounts), but the time we spent learning and practicing had me fall in love with my husband all over again--after 15 years of suppressing my feelings! Since my husband did not know how to dance when we first met, I had made an assumption that he would never be able to dance, and that I would have to live without dancing in our relationship. Even when he agreed to learn to dance before the cruise, I never thought he would fulfill my fantasies. But, surprise, surprise! Dancing has now vastly improved an already great relationship. An added plus was that our 12-year old daughter often joined our lessons and practices, which has united us in an active, fun, and valuable hobby.
We recommend Deborah to all who want to improve their dancing--whether they are already skilled, whether they are naturally talented, or whether they have two left feet! We had all three types in our family, and her coaching provided exactly what each of us needed. (And now I would never underestimate the tact that a dance teacher needs to have in giving people feedback on their dancing--a skill that Deborah has in spades!)"
Deborah believes anyone can dance, and creates a safe space for people to fulfill the possibility that dancing is for them.
- Victoria Zelin Cloud, Basking Ridge, NJ
---
" Debbie makes learning fun. My fiancée and I appreciate her understanding and open mindedness. She truly is a dancer inside and out. Debbie's positive outlook towards us as well as life definitely shines through and rubs off. She has managed to teach us some great steps for our first dance and also allowed us to add our own style without ever criticizing. She is an excellent teacher, very encouraging and a great pleasure to know. "
- Cynthia & John, Basking Ridge, NJ
---
" Dear Debbie,
Thank you so much for being such a great teacher. Sean and I had a lot of fun learning the Foxtrot and your flexible schedule helped to make it easy. Everyone thought we looked fantastic during our first dance. Thanks for helping to make our wedding day perfect!"
- Kerrie & Sean DeFusco, Glen Gardner, NJ

---
" Debbie Smith was an excellent dance instructor. Even though we each had two left feet, Debbie was able to teach us some great steps and choreograph our first dance together as husband and wife. Thanks so much, Debbie. "
- Matt and Kimberly Ehrlich, Basking Ridge, NJ

---
" We had Debbie work with us to choreograph a first dance for our Wedding. Debbie worked within our skill level and even came to the house to teach us. We had a great time learning AND we looked great at the Wedding! People asked how long we'd been dancing together! We'd recommend Debbie to anyone who wants to make that first dance look special."
- John and Georgia, Somerset, NJ

---
" My fiance is an engineer and I'm in marketing - so, needless to say we think and process information quite differently. Debbie was able to adapt to each of our learning styles, and helped us understand what we and our partner were doing so that we could work together as a couple. It was the first real activity that we learned together. And, Debbie made it fun.... not to mention that she took our fear away from dancing our bridal waltz in front of all our friends and family. I truly can't imagine a better dance instructor. "
- Mike & Elissa Cahill, Boston, MA & Madison, NJ

---
" My wife is a great dancer and I felt it was time that I took some dance lessons so that we could enjoy dancing together. I've put it off for years and was reluctant to start. I'm so glad I did start and better yet found Debbie to teach me. Debbie is a great instructor with a teaching style that will work with anyone at any level. I highly recommend her to anyone interested in learning to dance. You won't regret it! "
- Art Weber, Flemington, NJ