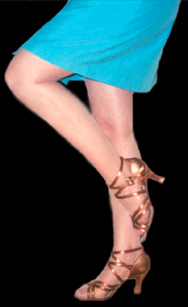 Private Lessons

Arrangements can be made to teach an individual or a couple. Unlike many studios, I will teach what you want, not what is specified in a "cookie-cutter" program or contract. For instance, you may choose to learn all of the Smooth and Latin dances, or just Swing, or just Foxtrot. You might choose to learn only the smooth dances (i.e. Foxtrot, Waltz, Quickstep, Tango or Viennese Waltz) or just the Latin dances (i.e. Cha-Cha, Rumba, Swing, Merengue or Salsa). It's up to you. Most importantly, you advance at your own pace, not at a pace dictated by a contract. Please see Compare Us for more differences between Ballroom Step by Step and the competition.

Group Lessons

Most of my group lessons are private groups, i.e. a group of friends have gathered together to take dance lessons as an activity to do together. Usually, they make an evening out of it and have a "tea party" afterwards. For regular group classes, please call me or e-mail me for additional information.

Parties

Planning a Birthday, Promotion, or Graduation Party? How about a Family or High School Reunion? Consider a dance lesson as one of your activities!

Weddings

Getting married soon? Want to be prepared for that first dance? Then you should start getting ready. Please visit the wedding page for more information.